Elevate Your Halloween Dessert Game with These Spooktacular Sheet Cake Recipes and Decorating Ideas! From haunted houses to creepy crawlers, we've got your Halloween sweets covered. Get ready to sink your fangs into these devilishly delicious treats. These are super easy and range from detailed designs to simple elegant ones!
11 Halloween Sheet Cake Recipes & Decorating Ideas
This festive Halloween sheet cake is perfect for parties or cozy fall dinners. Graveyard-themed and frightfully delicious, it's a piece of (after)life you won't want to miss!
1
Halloween Sheet Cake
This festive Halloween sheet cake is a great dessert idea for Halloween parties or fall dinners. This graveyard cake is easy and fun to make.
Check out this recipe
Try simple Halloween Sheet Cake Decorating Ideas like this pretty design! You just need a few food colors and piping tips!
2
PRETTY HALLOWEEN SHEET CAKE – Butter with a Side of Bread
Pretty Halloween Sheet Cake recipe made from scratch with classic vanilla cake and buttercream frosting! Easy instructions for piping a pretty cake with Halloween colors.
Check out this recipe
This Halloween, sink your teeth into a spook-tacular chocolate treat! Get ready to dig in!
3
Quick & Easy Halloween Chocolate Cake – Perfect Halloween Party Cake
If you are looking for an Easy Halloween Chocolate Cake then you need this easy Halloween sheet cake. An easy way to use up Halloween candy.
Check out this recipe
Pumpkin Halloween Sheet Cake Decorating Ideas like this design are super easy with M&Ms!
4
Easy Halloween Cake
Do you need to bring a dessert to a Halloween party but don't have a lot of time – you can decorate this Easy Halloween Cake in less than 30 minutes.
Check out this recipe
More Halloween Treats To Try: Purple People Eater Spooky Monster Treats 
Transform Your 9×13 Sheet Cake into a Spooktacular Bat for Halloween! Sink your fangs into this sweet treat and let the frightening festivities begin!
5
Easy Bat Cake – simple cut-apart cake for Halloween
Turn a 9 X 13 inch sheet cake into this adorable bat for your Halloween party. This easy bat cake can be made using a homemade chocolate cake or a cake mix and it's decorated with deep dark black chocolate frosting for a decadent Halloween treat that kids and adults will love.
Check out this recipe
Hocus Pocus Halloween Sheet Cake Decorating Ideas like this cake are perfect for the movie lover. Sure it is a bit more intricate and detailed but if you love Hocus Pocus – this is the recipe for you!
6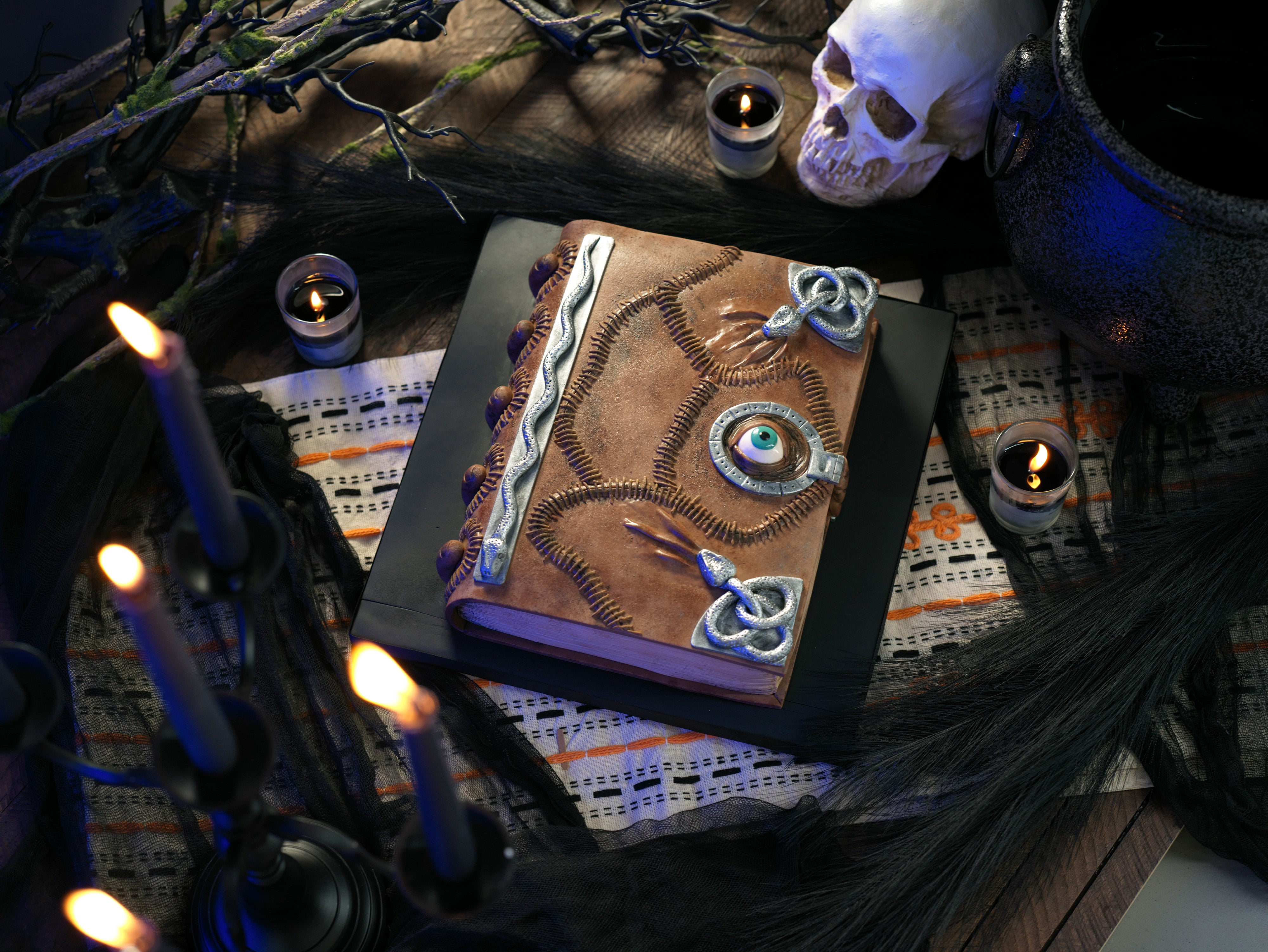 Hocus Pocus Spell Book Cake
Celebrate spooky season with a moist spiced pumpkin cake iced with tangy cinnamon cream cheese frosting. This cake is decorated with fondant to look like the iconic Spellbook from the classic Halloween movie "Hocus Pocus"
Makes 1 Hocus Pocus Book Cake Things you'll need
Spiced Pumpkin Cake…
Check out this recipe
Unleash Your Inner Cake Artist with this DIY Frankenstein! No special skills needed – just a touch of icing magic to craft this monstrously sweet treat.
7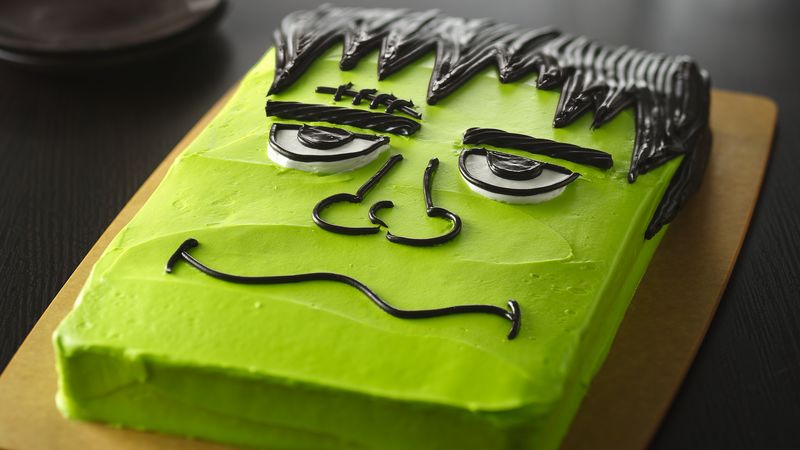 Halloween Monster Cake
Need a fun and spooky dessert for a Halloween celebration? This creatively decorated Frankenstein cake will be a hit! You don't have to be an artist to make your own easy Frankenstein cake, either—a few icing details, and you've got yourself a monstrously sweet dessert that's all treat and no trick.
Check out this recipe
Looking for something simple, sweet, vegan, and gluten free? Look no further.
8
Gluten-Free Pumpkin Cake with Vegan Cream Cheese Frosting
The easy Gluten-Free Pumpkin Cake with Vegan Cream Cheese Frosting is made in one-bowl, with 10 ingredients, and bakes in 30 minutes!
Check out this recipe
Cake Ideas like this graveyard dirt cake couldn't be easier.
9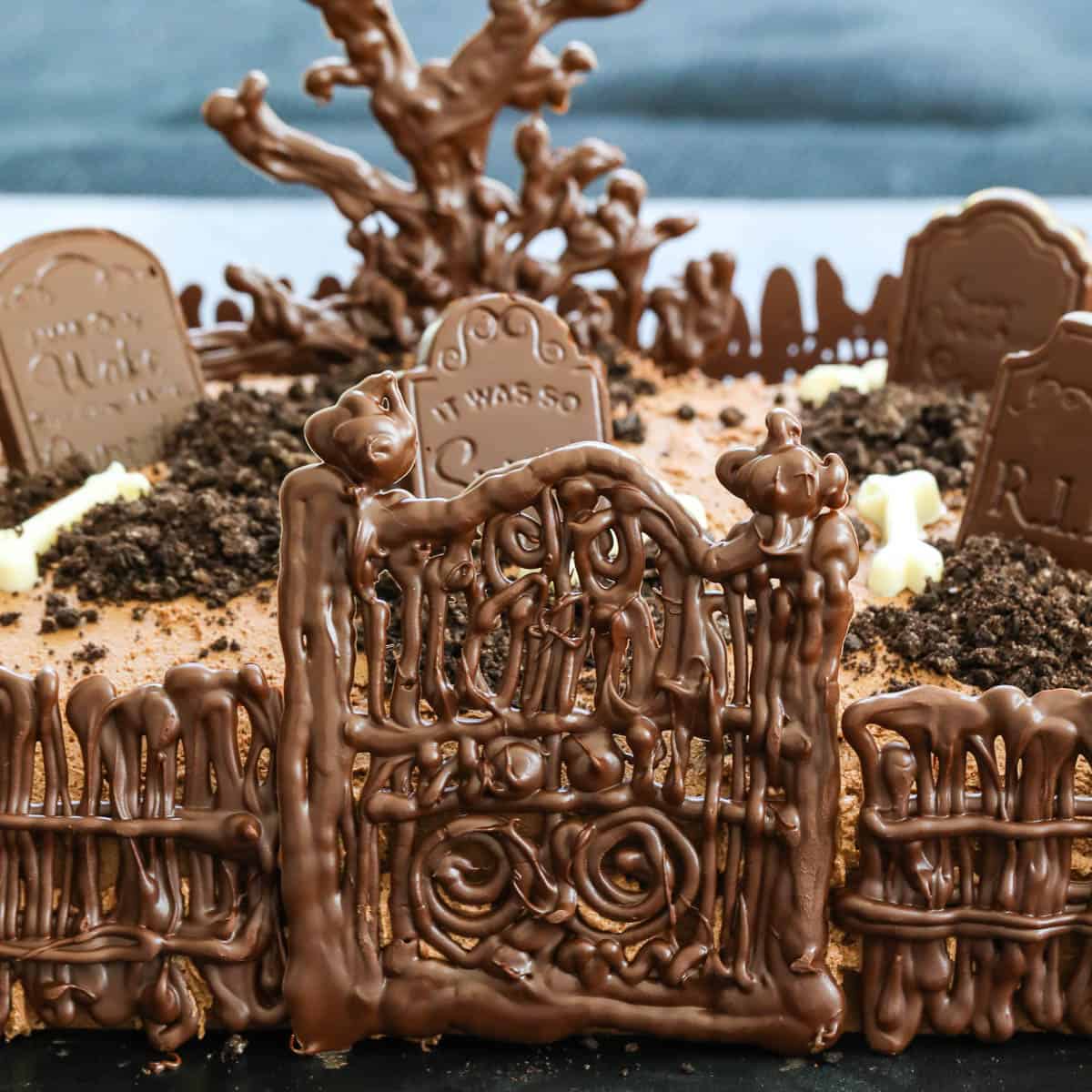 Halloween Graveyard Cake
Bake a spooky graveyard Halloween Cake! This 9 x 13 sheet cake is marbled inside, has chocolate frosting, and step-by-step decorating tips.
Check out this recipe
Embrace the Flavors of Fall with this Pumpkin Sheet Cake and Creamy Cinnamon Cream Cheese Frosting! It's all treat and no trick!
10
Pumpkin Sheet Cake with Cinnamon Cream Cheese Frosting
Who can resist a sweet and spicy pumpkin sheet cake topped with a luscious cream cheese frosting? This moist and decadent cake is a must-bake for fall!
Check out this recipe
Rich, moist, and packed with that cozy autumn flavor. This dessert is the perfect blend of decadence and seasonal delight.
11
Chocolate Pumpkin Sheet Cake
Moist chocolate cake topped with decadent pumpkin cream cheese frosting, this chocolate pumpkin sheet cake is a delightfully sweet fall treat!
Check out this recipe
How do you make marshmallow cobwebs on Halloween cake?

Halloween Cake Ideas like creating marshmallow cobwebs is a fun and spooky way to decorate for Halloween. Here's a step-by-step guide on how to make marshmallow cobwebs:

Place your marshmallows in a microwave-safe bowl and heat them in 15-30 second intervals, stirring in between, until they are completely melted. 

Working quickly, use a fork or a pair of forks to dip into the melted marshmallow. Hold the fork(s) above the cake and drizzle the melted marshmallow back and forth in a zigzag or spiral pattern to create the cobweb design. Be creative with the patterns, and make sure the cobwebs look thin and wispy.

Let it set until marshmallows harden then dust with some powdered sugar! 
More Halloween Recipes To Try!
Get Ready to Haunt Your Taste Buds! Spine-tingling Halloween Sheet Cake Decorating Ideas Await! Whether you're after eerie elegance or creepy creativity, we've got the inspiration to make your Halloween a scream-worthy masterpiece. Let's conjure up some sweet and spooky magic!